THE GUNPOWDER PLOT
Journey back in time and experience London as it was in 1605. You're not just witnessing history, you are living it.
Using a combination of live theatre and the latest digital technology you are transported into the heart of a story in which you are the protagonist. You're thrown into the world the plotters inhabited, immersed in an unforgettable, fully 360 environment. You will experience the deception first hand but when you are surrounded by 'traitors', who will you trust?
MEETING POINT
The Gunpowder Plot
8-12 Tower Hill Vaults London EC3N 4EE
WHEN
Wednesday to Sunday From 12.00 until 5pm – every 30 minutes
GROUP BOOKING
All our experiences can be booked privately for groups!
The Gunpowder Plot is a brand new attraction opening May 2022, so understandably we get a few questions about the experience from people like you looking to book a fantastic day out. To help you decide if it's for you, here are some real questions from our social channels answered:
"How interactive is the experience? Do you have to unmask them (the plotters), or are there any missions where you can join them?"
It is a fully immersive experience with a mix of actor-led live theatre, the latest in sensory technology and VR. You move through the experience, unlike a sit down show. There are opportunities for you to be part of the story and interact with the actors, but you don't have to. It's entirely up to you how much you get involved.
The experience takes place in a purpose-designed immersive theatre space in Tower Vaults, at the UNESCO World Heritage Tower of London last accessible to the public two decades ago. The vaults sit beneath the infamous Tower Hill site where much of the prelude to the Gunpowder Plot took place before Guy Fawkes' torture and eventual death. Journey back to a time where the Tower was the ultimate symbol of state and royal power. "Send him to the Tower" was the final threat for Britons. Guy Fawkes and his fellow plotters were sent to The Tower of London as a reflection of the seriousness of their plot. They were imprisoned and tortured at the Tower before suffering a hideous traitor's death in Westminster.
Set in 20,000 square feet of specially converted vault space, over three separate levels, you will step back into history to experience the conspiracy first hand. Our story will start and end at The Tower but you will journey through the streets of 1605 London as you immerse yourself in an unforgettable, fully 360 environment.
It is often claimed that Guy Fawkes and his co-conspirators hatched their plan in a tavern on the Strand, named the Duck and Drake. It is here they apparently swore an oath on the bible to blow up Parliament.
During your experience you will have the chance to enjoy an interval drink or cocktail in a specially recreated Duck and Drake, accessible only to plotters. But you will need to keep your wits about you as you never know who you may bump into…
IMMERSE YOURSELF
Your five senses will ignite as the latest digital technology is paired with live, immersive theatre and real, physical sensations. As you step back into 1605, this multilayered experience will make you feel like you are there. History is happening around you, and you are part of it.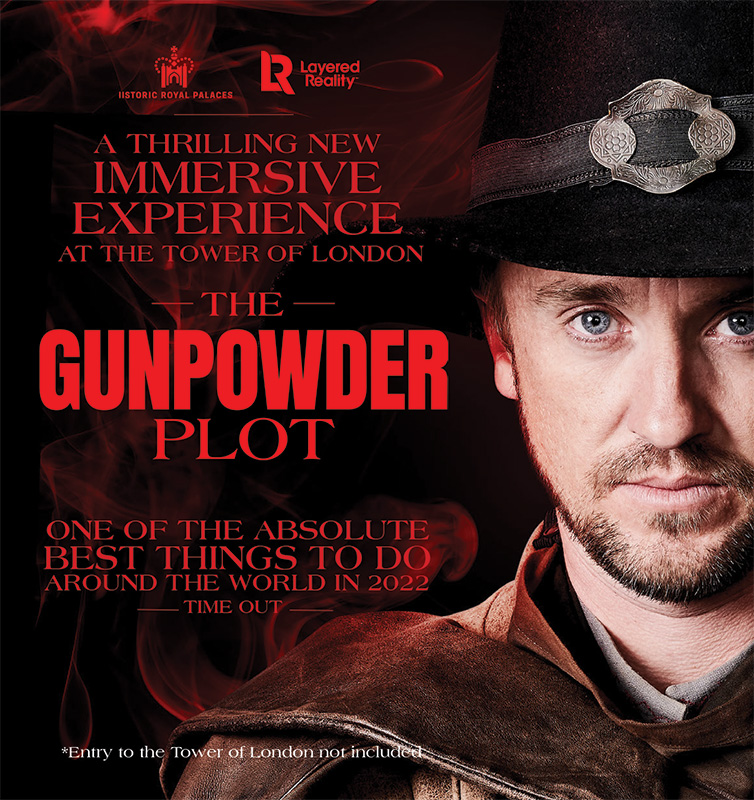 Enjoy a day out with friends and family as you embark on a thrilling new immersive experience unlike anything you have experienced before
Make the most of The Gunpowder Plot experience and enjoy food, drink and cocktails in their themed bars
An experience the whole family can enjoy however, due to the story content and technology, our age recommendation is 10+
Each performance is limited to a maximum of 12 people to allow you to come face to face with history
Be prepared to be part of the story. There are opportunities for you to interact with the actors, but you don't have to. It's entirely up to you how much you get involved Inclusions
Exclusions
• Food or drinks at the restaurants of the venue
• Ticket entrance to the Tower of London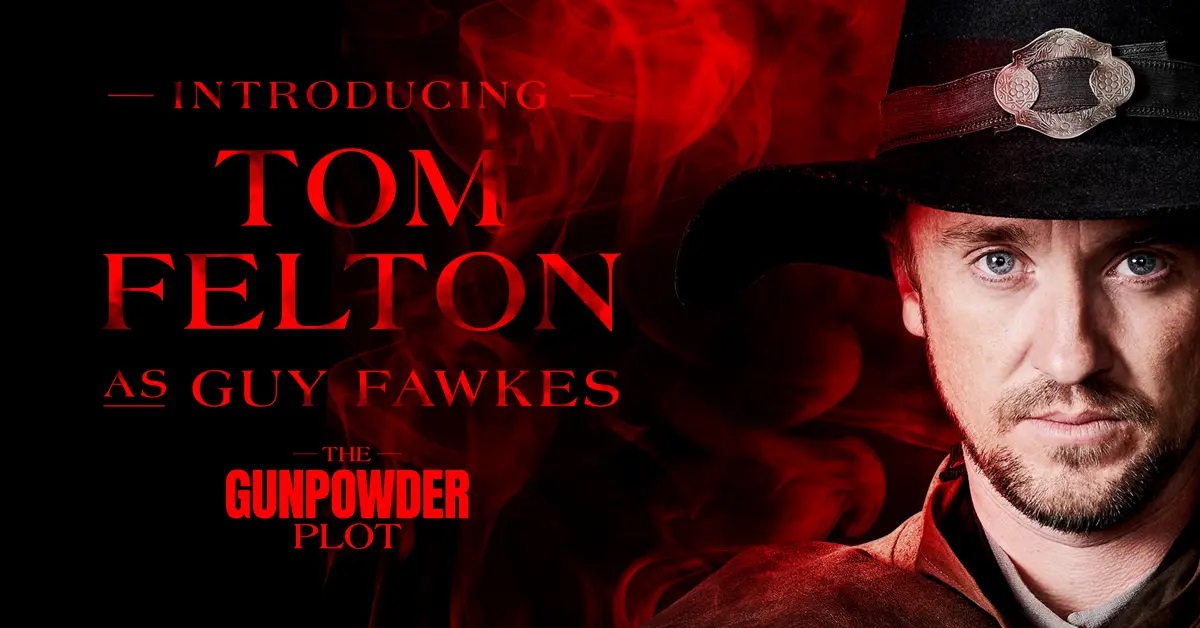 LOCATION & HOW TO ARRIVE
Our experiences are unique, unforgettable and entirely safe, allowing you to experience the extraordinary with your friends & family and make amazing memories.
MEETING POINT
8-12 Tower Hill Vaults London EC3N 4EE
NEAREST PUBLIC TRANSPORT
Underground stations; Tower Hill, Tower Gateway and Fenchurch Street
FLEXIBLE
Book now and redeem within 12 months.
IMMERSIVE
Not just a Tour. We create unforgettable Experiences.
FASCINATING
Our guides have unrivalled knowledge & expertise.
PERSONAL
Reduced groups. Enjoy your Experience with Friends & Family.